St. Nicholas is the Saint better known as "Santa Claus" (Sinterklaas in the Dutch whence "Santa Claus" comes). His image in America has been mixed up with a lot of traits and imagery from sources as disparate as the poetry of Clement Moore, pagan Norse mythology, and American advertising. In real life, though, St. Nicholas was a beloved and wonderful Bishop of Myra (in modern-day Turkey). He was born in Asia Minor in A.D. 260 and orphaned at an early age.

As a young man, he made a pilgrimage to Palestine and Egypt, becoming a Bishop upon his return. He was imprisoned during the persecutions of Diocletian, but was released after Constantine came to rule. According to legend, he was present at the Council of Nicaea and became so incensed at Arius -- the heretical Bishop whose denial of the two natures of Christ spread through the Church -- that he slapped him across the face. He intervened twice in cases in which innocent men were accused of crimes they did not commit, once appearing to Constantine and the local prefect in a dream, encouraging them to do the right thing in their regard.

Many stories about his life indicate his kindness and reveal miracles. The Golden Legend, written in A.D. 1275 by Jacobus de Voragine, Archbishop of Genoa, tells us how the Saint threw bags of gold coins to a man in order to provide dowries for the man's daughters and save them from lives of lechery:
And it was so that one, his neighbour, had then three daughters, virgins, and he was a nobleman: but for the poverty of them together, they were constrained, and in very purpose to abandon them to the sin of lechery, so that by the gain and winning of their infamy they might be sustained. And when the holy man Nicholas knew hereof he had great horror of this villainy, and threw by night secretly into the house of the man a mass of gold wrapped in a cloth. And when the man arose in the morning, he found this mass of gold, and rendered to God therefor great thankings, and therewith he married his oldest daughter.

And a little while after this holy servant of God another mass of gold, which the man found, and thanked God, and purposed to wake, for to know him that so had aided him in his poverty. And after a few days Nicholas doubled the mass of gold, and cast it into the house of this man. He awoke by the sound of the gold, and followed Nicholas, which fled from him, and he said to him: Sir, flee not away so but that I may see and know thee.

Then he ran after him more hastily, and knew that it was Nicholas; and anon he kneeled down, and would have kissed his feet, but the holy man would not, but required him not to tell nor discover this thing as long as he lived.
The gold that St. Nicholas gave he put in the girls' stockings, giving birth to the Christmas tradition of hanging stockings from the hearth.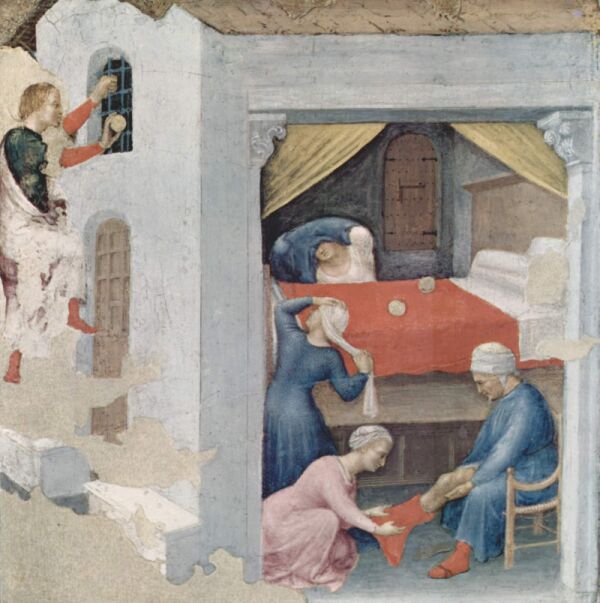 Another tale from the Golden Legend explains how St. Nicholas saved sailors from a tempest:
It is read in a chronicle that, the blessed Nicholas was at the Council of Nice; and on a day, as a ship with mariners were in perishing on the sea, they prayed and required devoutly Nicholas, servant of God, saying: If those things that we have heard of thee said be true, prove them now.

And anon a man appeared in his likeness, and said: Lo! see ye me not? ye called me, and then he began to help them in their exploit of the sea, and anon the tempest ceased.

And when they were come to his church, they knew him without any man to show him to them, and yet they had never seen him. And then they thanked God and him of their deliverance. And he bade them to attribute it to the mercy of God, and to their belief, and nothing to his merits.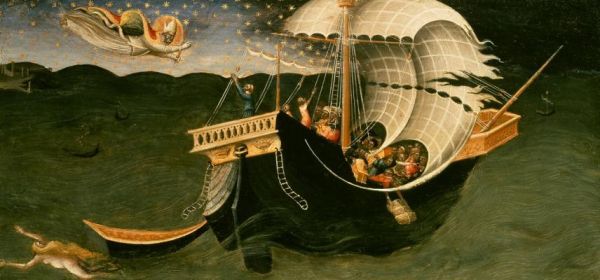 The Golden Legend also gives us the story of a Jewish man who was robbed, and how St. Nicholas used the event to imitate Christ, thereby not only bringing the Jewish man to Christ, but causing the thieves to repent:
Another Jew saw the virtuous miracles of St. Nicholas, and did do make an image of the saint, and set it in his house, and commanded him that he should keep well his house when he went out, and that he should keep well all his goods, saying to him: Nicholas, lo! here be all my goods, I charge thee to keep them, and if thou keep them not well, I shall avenge me on thee in beating and tormenting thee.

And on a time, when the Jew was out, thieves came and robbed all his goods, and left, unborne away, only the image. And when the Jew came home he found him robbed of all his goods. He areasoned the image saying these words: Sir Nicholas, I had set you in my house for to keep my goods from thieves, wherefore have ye not kept them? Ye shall receive sorrow and torments, and shall have pain for the thieves. I shall avenge my loss, and subdue my madness in beating thee.

And then took the Jew the image, and beat it, and tormented it cruelly. Then happed a great marvel, for when the thieves departed the goods, the holy saint, like as he had been in his array, appeared to the thieves, and said to them: Wherefore have I been beaten so cruelly for you and have so many torments? See how my body is hewed and broken; see how that the red blood runneth down by my body; go ye fast and restore it again, or else the ire of God Almighty shall make you as to be one out of his wit, and that all men shall know your felony, and that each of you shall be hanged.

And they said: Who art thou that sayest to us such things? And he said to them: I am Nicholas the servant of Jesu Christ, whom the Jew hath so cruelly beaten for his goods that ye bare away.

Then they were afeard, and came to the Jew, and heard what he had done to the image, and they told him the miracle, and delivered to him again all his goods. And thus came the thieves to the way of truth, and the Jew to the way of Jesu Christ.
Another famous story, this one not contained in the Golden Legend, tells how three children were killed by an butcher and put into a tub of brine. St. Nicholas, by the power of God, brought them back to life.

St. Nicholas is also said to have given three poor children three apples each -- apples that turned to gold.

The story is told, too, that St. Nicholas attended the Council of Nicaea, convened by the Emperor Constantine in A.D. 325 to deal with the problem of Arianism. Arius spewed his heresy, and St. Nicholas, it is said, walked up to him and slapped him across the face. Nicholas was stripped of his bishopric and belongings, and imprisoned. While locked up, Our Lord and Lady visited him, asking why he was jailed. He answered, "Because of my love for you." They handed him a Book of the Gospels and a Bishop's stole. When he was seen the next morning, chains on the floor, holding the Gospel and stole, he was freed and restored as Bishop.

When the great Saint died, he was buried in Myra, but the town was later taken by the Saracens in A.D. 1034. The Italians rallied to gather and preserve his relics from desecration, and in 1097, sailors brought them to Bari, Italy. A lovely church -- the Church of San Niccolo -- was built to house them, and tere they can be found today. A curative Oil of Saints -- "Manna di San Niccolo" -- is said to exude from them to this day.

St. Nicholas is the patron of children, sailors, bakers, and glassmakers and is represented in art as a bearded, older man -- usually mitred -- holding 3 gold coins or a bag of coins, or three orbs. He is also often shown with children, and/or a ship.
Customs
Many Catholics prepare for this feast by praying the Novena to St. Nicholas starting on November 27 and ending on December 5. For the feast itself, this is a good traditional prayer for the day:

St. Nicholas, my special protector, from that bright throne where thou dost enjoy the vision of thy God, in pity turn thine eyes upon me; obtain for me from GOD that grace and assistance of which, in my present necessities, spiritual and temporal, I am most in want, and especially the grace of N______ , if such be expedient for my eternal welfare. Remember, moreover, O glorious and holy Bishop, our Sovereign Pontiff, the Holy Church, and this City of Rome. Bring back to the right way of salvation those who live steeped in sin or buried in the darkness of ignorance, error, and heresy. Comfort the sorrowing, provide for the needy, strengthen the weak-hearted, defend the oppressed, help the sick; let all experience the effects of thy powerful intercession with Him who is Supreme Giver of all good. Amen.

Pray a Pater, Ave, and Gloria

V. Pray for us, blessed Nicholas.
R. That we may be made worthy of the promises of Christ.

Let us pray. O God, who hast honoured and ceasest not daily to honour thy glorious Confessor and Pontiff, blessed Nicholas, with innumerable miracles; grant, we beseech Thee, that by his merits and prayers we may be delivered from the fire of hell and from all other dangers. Through Christ our Lord Amen.

Now, the Feast of St. Nicholas is, for many Catholics, the day for gift-giving (some do this on Christmas, some do this on the Feast of the Epiphany in memory of the gifts the Three Kings gave to Baby Jesus, and some spread the gift-giving out on all these days). In some places, especially in the Eastern Catholic churches, "St. Nicholas," dressed as a Bishop and often accompanied by a donkey, will show up and hand out presents to the little ones, or children put their shoes in front of the fireplace to be filled with candy and presents (often including a red apple) by morning. In the spirit of reciprocity, children will leave a little something out for St. Nicholas and his donkey as well, in the same way American children leave out cookies for "Santa Claus" (who is St. Nicholas!) and his reindeer on Christmas Eve. Because coins are one of the many symbols of St. Nicholas, chocolate coins are a perfect thing to put in the childrens' shoes. One can use Christmas stockings instead of shoes, or one can buy adult-sized wooden shoes, paint and decorate them, and bring them out for use just on St. Nicholas's Day.

In any case, an icon -- even a nice Holy Card -- of St. Nicholas should be visible today if at all possible. Surround it with greenery and candles, and tell your children the story of the Saint Nicholas behind the "Santa Claus." This beautiful Bulgarian song -- Sveti Nikola Konya Kove -- dedicated to our Saint is perfect for the day; it is sung by Daniel Spassov and Milen Ivanov:




Then there is this very old song by the animal-loving, English hermit St. Godric of Finchale (d. 1170). This is one of the very earliest hymns in the English language that have come down to us:

Sainte Nicolæs Godes druð
tymbre us faire scone hus;
At þi burth, at þi bare
Sainte Nicolæs, bring us wel þare.
Saint Nicholas, God's beloved,
Build for us a fair bright house;
At the birth, at the bier,
Saint Nicholas, bring us safely there.

The French have a song about the incident involving the three children killed by the butcher and brought back to life by St. Nicholas.You can download the sheet music in pdf format: Saint Nicolas (Ils Etaient Trois Petits Enfants"):

lls étaient trois petits enfants
Qui s'en allaient glaner aux champs.

Tant sont allés, tant sont venus,
Que sur le soir se sont perdus
S'en sont allés chez le boucher
"Boucher, voudrais tu nous loger?"

"Entrez, entrez, petits enfants,
Y a d'la place assurément."
Ils n'étaient pas sitôt entrés
Que le boucher les a tués.

Saint Nicolas, au bout d'sept ans,
Vint à passer dedans ces champs.
Alla frapper chez le boucher
Pour lui demander à souper.

"Du p'tit salé je veux avoir
Qu'y a sept ans qu'est au saloir."
Quand le boucher entendit ça,
Hors de sa porte il s'enfuya.

"Petits enfants qui dormez là,
Je suis le grand Saint Nicolas."
Et le saint au bout de son bras
Les tira de là tous les trois.

Le premier dit "J'ai bien dormi"
Le second dit "Et moi aussi"
Et le troisième répondit :
"Je croyais être en Paradis!"
There were three little children
Who were going to glean in the fields.

So many have gone, so many have come,
That in the evening got lost
They went to the butcher
"Butcher, would you like to put us up?"

"Come in, come in, little children,
There is definitely room.
They had barely entered when
The butcher killed them.

Saint Nicolas, after seven years,
Came through these fields.
And went knocking at the butcher's place
To ask him for supper.

"I want a little salty
It's been seven years since
they've been in the salting tub."
When the butcher heard that,
Out of his door he fled.

"Little children who sleep there,
I am the great Saint Nicolas."
And the saint took his arms and
Pulled all three out..

The first says "I slept well";
The second says "And me too";
And the third replied:
"I thought I was in paradise!"

On St. Nicholas's Feast Day in the Netherlands and Belgium, it is customary to serve Speculaas cookies, a spicy cookie, cut into shapes relevant to the life of St. Nicholas (coins, mitres, ships, balls, money bags), and painted with colorful icing:
Speculaas Cookies (makes 3 dozen depending on size)

Cookie:
1 Cup (2 sticks) sweet butter, at room temperature
2 cups dark brown sugar
2 eggs
Grated rind of 1 lemon
2 teaspoons cinnamon
1 teaspoon ground nutmeg or mace
1/2 teaspoon ground cloves
1/8 teaspoon ground ginger
1/8 teaspoon cardamom
1/8 teaspoon salt
4 cups flour
1 teaspoon baking powder

Icing:
Powdered sugar
Water
Lemon juice
A little beaten egg white for consistency, if desired
Food coloring

In a large bowl, cream the butter with the sugar until fluffy. Stir in the eggs one at a time, blending thoroughly after each addition. Stir in the lemon rind. Sift the spices and salt with the flour and baking powder, and stir gradually into the butter mixture. Wrap in waxed paper or plastic wrap and chill for several hours or overnight. On a floured surface, roll out the dough to about 1/8 inch, or for larger figures to about 1/4 inch. Cut into shapes (Bishop, Bishop's staff, Bishop's mitre, ship, coins, etc.) and bake at 350 degrees until lightly browned (don't overbake). When cool, mix together icing ingredients and paint cookies as desired.
The eve of the Feast of St. Nicholas -- that is, the night of December 5 -- is, in areas of Germany (Bavaria), Austria, northern Italy, Hungary, and Croatia, a night when a half demon, half goat creature named Krampus appears alongside St. Nicholas, a creature that gives the night its German name: Krampusnacht.

This demonic being with its cloven hooves, horns, and black fur is bound in chains, representing the Church's power over Satan. Traditionally, figures of Krampus and St. Nicholas parade in the aforementioned areas on Krampusnacht, with Krampus bearing sticks with which to swat at naughty children, and St. Nicholas bearing gifts, such as candies, to reward well-behaved children. The "St. Nicholas and companion" rewarding/punishing duo is seen all over Europe, with the punishing figure changing from place to place -- e.g., in the Netherlands and Belgium, he is known as Swarte Piet (Black Pete); in Northern Germany, he's known as Knecht Ruprecht, etc. In the United States, it's Saint Nicholas himself who is said to give bad children coal in their stockings to punish bad behavior. This punishing figure is used to keep children in line throughout the year ("You better be good! You don't want Krampus to punish you, do you?")

Sadly, the traditions of Krampusnacht have become overwhelmingly paganized and secularized, much the way the customs of Hallowe'en have. St. Nicholas is downplayed, and the Krampus figure has become less humorous, more demonically chilling, and the sole focus of Krampusnacht. What used to be wholesome and fun demonstrations of Good being rewarded while evil is punished have now become hedonistic celebrations of evil in many places.

St. Nicholas is honored in Bari, Italy, where his relics reside, on May 7 also, and in Gualtieri Sicamino in Sicily, this day is known as Nocciolata: a few days before, groups of men, accompanied by musicians singing Viva Viva Santa Nicola, go door to door asking for walnuts and figs, which they entrust to one of their group who carries a special bag to keep them in. On the feast itself, everyone gathers in the Piazza Duomo -- and, from the balconies come torrents of hazelnuts, which the people rush to grab up.