In the Old Testament Joseph, who prefigured Christ, was betrayed by his older brother, Judah -- the father of the tribe whence came King David and through which the Messianic prophecies were fulfilled -- when Judah sold Joseph into slavery in Egypt for so many shekels of silver (see Genesis 37-38, and also Psalm 68:2-29 and Acts 1:13-20).

From that tribe of Judah came Our Lord, Who was betrayed by another Judah, a man who is more commonly known as Judas Iscariot ("Iscariot" refers to Kerioth, a town in Judea). This Judas handled the money for the Apostles and became offended by the extravagance of Mary Magdalen's gesture of love toward Jesus:
John 12:1-8 1
Jesus therefore, six days before the pasch, came to Bethania, where Lazarus had been dead, whom Jesus raised to life. And they made him a supper there: and Martha served: but Lazarus was one of them that were at table with him. Mary therefore took a pound of ointment of right spikenard, of great price, and anointed the feet of Jesus, and wiped his feet with her hair; and the house was filled with the odour of the ointment.

Then one of his disciples, Judas Iscariot, he that was about to betray him, said: Why was not this ointment sold for three hundred pence, and given to the poor? Now he said this, not because he cared for the poor; but because he was a thief, and having the purse, carried the things that were put therein.

Jesus therefore said: Let her alone, that she may keep it against the day of my burial. For the poor you have always with you; but me you have not always.
Immediately after this, Judas met with the chief priests to betray Our Lord for thirty pieces of silver. Here is St. Matthew's version of History:
Matthew 26:6-15
And when Jesus was in Bethania, in the house of Simon the leper, There came to Him a woman having an alabaster box of precious ointment, and poured it on His head as He was at table.

And the disciples seeing it, had indignation, saying: To what purpose is this waste? For this might have been sold for much, and given to the poor.

And Jesus knowing it, said to them: Why do you trouble this woman? for she hath wrought a good work upon me. For the poor you have always with you: but me you have not always. For she in pouring this ointment upon my body, hath done it for my burial. Amen I say to you, wheresoever this gospel shall be preached in the whole world, that also which she hath done, shall be told for a memory of her.

Then went one of the twelve, who was called Judas Iscariot, to the chief priests, And said to them: What will you give me, and I will deliver him unto you? But they appointed him thirty pieces of silver.
For thirty pieces of silver was Our Lord betrayed, as prophecied by Zacharias: 1
Zacharias 11:9 -12
I will not feed you: that which dieth, let it die: and that which is cut off, let it be cut off: and let the rest devour every one the flesh of his neighbour. And I took my rod that was called Beauty, and I cut it asunder to make void my covenant, which I had made with all people. And it was made void in that day: and so the poor of the flock that keep for me, understood that it is the word of the Lord. And I said to them: If it be good in your eyes, bring hither my wages: and if not, be quiet. And they weighed for my wages thirty pieces of silver.
St. Luke explains how this vile betrayal happened: a devil entered into Judas:
Luke 22:3-6
And Satan entered into Judas, who was surnamed Iscariot, one of the twelve. And he went, and discoursed with the chief priests and the magistrates, how he might betray Him to them. And they were glad, and convenanted to give him money. And he promised. And he sought opportunity to betray him in the absence of the multitude (see also John 13:2).
But Jesus already knew this would happen, as we know from this earlier exchange with His Apostles, after He revealed that we must eat His Body and drink His Blood. He knew what Judas would do with the free will God gives to all men:
John 6:64-72
The words that I have spoken to you, are spirit and life. But there are some of you that believe not. For Jesus knew from the beginning, who they were that did not believe, and who he was, that would betray him. And He said: Therefore did I say to you, that no man can come to Me, unless it be given him by my Father.

After this many of his disciples went back; and walked no more with Him. Then Jesus said to the twelve: Will you also go away?

And Simon Peter answered him: Lord, to whom shall we go? Thou hast the words of eternal life. And we have believed and have known, that Thou art the Christ, the Son of God (see also John 12:26-29 and Matthew 26:25).

Jesus answered them: Have not I chosen you twelve; and one of you is a devil? Now he meant Judas Iscariot, the son of Simon: for this same was about to betray Him, whereas he was one of the twelve.
After the Last Supper (commemorated tomorrow, on Maundy Thursday), Judas led the high priests to Jesus in the Garden of Gethsemani, and let them know Who He is by greeting Him with the words, "Hail, Rabbi" and kissing Him. Jesus responded, "Judas, dost thou betray the Son of man with a kiss?" (Matthew 26:48-49).

After Jesus's arrest tomorrow night, on Maundy Thursday, Judas returned to the chief priests and threw the thirty pieces of silver at them, repenting of his deed. The priests consider it blood money, so refuse to put it in the Temple's coffers. They instead buy a potter's field -- the "field of blood" -- to be used for burying strangers. Judas went and hanged himself, and his body burst open like the potter's vessel that Jeremias spoke of as a symbol of faithless Israel:
Jeremias 18:1-10
The word that came from Jeremias to the Lord, saying: Arise, and go down to the potter's house, and there thou shalt hear my words. And I went down into the potter's house, and behold he was doing a work on the wheel. And the vessel was broken which he was making with clay with his hands: and turning he made another vessel, as it seemed good in his eyes to make it.

Then the word of the Lord came to me, saying: Cannot I do with you as this potter, saith the Lord? behold as clay is in the hand of the potter, so are you in my hand, O house of Israel. I will suddenly speak against a nation, and against a kingdom, to root out, and to pull down, and to destroy it. If that nation against which I have spoken, shall repent of their evil, I also will repent of the evil that I have thought to do to them. And I will suddenly speak of a nation and of a kingdom, to build up and plant it. If it shall do evil in my sight, that it obey not my voice: I will repent of the good that I have spoken to do unto it.

Jeremias 19:1-13
Thus saith the Lord: Go, and take a potter's earthen bottle, and take of the ancients of the people, and of the ancients of the priests: And go forth into the valley of the son of Ennom, which is by the entry of the earthen gate: and there thou shalt proclaim the words that I shall tell thee.

And thou shalt say: Hear the word of the Lord, O ye kings of Juda, and ye inhabitants of Jerusalem: Thus saith the Lord of hosts, the God of Israel: Behold I will bring an affliction upon this place: so that whoever shall hear it, his ears shall tingle: Because they have forsaken me, and have profaned this place: and have sacrificed therein to strange gods, whom neither they nor their fathers knew, nor the kings of Juda: and they have filled this place with the blood of innocents. And they have built the high places of Baalim, to burn their children with fire for a holocaust to Baalim: which I did not command, nor speak of, neither did it once come into my mind.

Therefore behold the days come, saith the Lord, that this place shall no more be called Topheth, nor the valley of the son of Ennom, but the valley of slaughter. And I will defeat the counsel of Juda and of Jerusalem in this place: and I will destroy them with the sword in the sight of their enemies, and by the hands of them that seek their lives: and I will give their carcasses to be meat for the fowls of the air, and for the beasts of the earth. And I will make this city an astonishent, and a hissing: every one that shall pass by it, shall be astonished, and shall hiss because of all the plagues thereof. And I will feed them with the flesh of their sons, and with the flesh of their daughters: and they shall eat every one the flesh of his friend in the siege, and in the distress wherewith their enemies, and they that seek their lives shall straiten them.

And thou shalt break the bottle in the sight of the men that shall go with thee. And thou shalt say to them: Thus saith the Lord of hosts: even so will I break this people, and this city, as the potter's vessel is broken, which cannot be made whole again: and they shall be buried in Topheth, because there is no other place to bury in. Thus will I do to this place, saith the Lord, and to the inhabitants thereof: and I will make this city as Topheth. And the houses of Jerusalem, and the houses of Juda shall be unclean as the place of Topheth: all the houses upon whose roots they have sacrificed to all the host of heaven, and have poured out drink offerings to strange gods.




Woe to Judas! Jesus Himself said of him at the Last Supper, "The Son of man indeed goeth, as it is written of him: but woe to that man by whom the Son of man shall be betrayed: it were better for him, if that man had not been born" (Matthew 26:24). His name is synonymous with betrayal, and Dante, in Canto XXXIV of his "Inferno," places him in the very innermost circle of Hell -- the circle made for traitors -- being devoured eternally by a three-faced, bat-winged devil:
When we had gotten far enough along
that my master was pleased to let me see
the creature who was once so fair of face
he took a step aside, then brought me to a halt:
'Look there at Dis! And see the place
where you must arm yourself with fortitude.'
Then how faint and frozen I became,
reader, do not ask, for I do not write it,
since any words would fail to be enough.
It was not death, nor could one call it life.
Imagine, if you have the wit,
what I became, deprived of both.
The emperor of the woeful kingdom
rose from the ice below his breast,
and I in size am closer to a giant
than giants are when measured to his arms.
Judge, then, what the whole must be
that is proportional to such a part.
If he was fair as he is hideous now,
and raised his brow in scorn of his creator,
he is fit to be the source of every sorrow.
Oh, what a wonder it appeared to me
when I perceived three faces on his head.
The first, in front, was red in color.
Another two he had, each joined with this,
above the midpoint of each shoulder,
and all the three united at the crest.
The one on the right was a whitish yellow,
while the left-hand one was tinted like the people
living at the sources of the Nile.
Beneath each face two mighty wings emerged,
such as befit so vast a bird:
I never saw such massive sails at sea.
They were featherless and fashioned
like a bat's wings. When he flapped them,
he sent forth three separate winds,
the sources of the ice upon Cocytus.
Out of six eyes he wept and his three chins
dripped tears and drooled blood-red saliva.
With his teeth, just like a hackle
pounding flax, he champed a sinner
in each mouth, tormenting three at once.
For the one in front the gnawing was a trifle
to the clawing, for from time to time
his back was left with not a shred of skin.
'That soul up there who bears the greatest pain,'
said the master, 'is Judas Iscariot, who has
his head within and outside flails his legs.
'As for the other two, whose heads are dangling down,
Brutus is hanging from the swarthy snout --
see how he writhes and utters not a word! --
'and from the other, Cassius, so large of limb.
But night is rising in the sky. It is time
for us to leave, for we have seen it all.'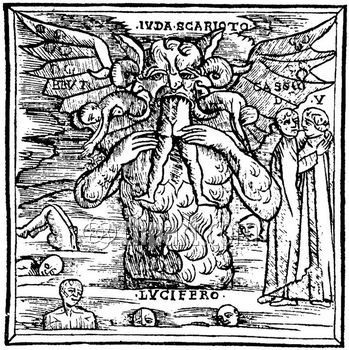 The Golden Legend, written in A.D. 1275 by Jacobus de Voragine, Archbishop of Genoa, recounts both fascinating, fantastical medieval legend and the true History regarding Judas in its section "Of St. Matthias." The writer clearly differentiates between legend and verified truth with his words "Thus far it is read in the history which is not authentic," so you can easily discern:
It is read in a history, though it be named apocrypha, that there was a man in Jerusalem named Reuben, and by another named Simeon, of the kindred of David, or, after S. Jerome, of the tribe of Issachar, which had a wife named Ciborea, and on the night that Judas was conceived his mother had a marvellous dream whereof she was so sore afeard. For her seemed that she had conceived a child that should destroy their people, and because of the loss of all their people her husband blamed her much, and said to her: Thou sayest a thing over evil, or the devils will deceive thee. She said: Certainly if so be that I shall have a son, I trow it shall be so, as I have had a revelation and none illusion.

When the child was born the father and mother were in great doubt, and thought what was best to do, for they durst not slay the child for the horror that they should have therein, neither they wist not how they might nourish one that should destroy their lineage. Then they put him to a little fiscelle or basket well pitched, and set it in the sea, and abandoned him to drive whither it would. And anon the floods and waves of the sea brought and made him arrive in an island named Scarioth, and of this name was he called Judas Scariotes.

Now it happed that the queen of this country went for to play on the rivage of the sea, and beheld this little nacelle and the child therein, which was fair, and then she sighed and said: O Lord God, how should I be eased if I had such a child, then at the least should not my realm be without heir. Then commanded she that the child should be taken up, and be nourished, and she fained herself to be great with child and after published that she had borne a fair son. When her husband heard say hereof he had great joy, and all the people of the country made great feast. The king and queen did do nourish and keep this child like the son of a king.

Anon after, it happed that the queen conceived a son, and when it was born and grown Judas beat oft that child, for he weened that he had been his brother, and oft he was chastised therefore, but alway he made him to weep so long that the queen which knew well that Judas was not her son, and at the last she said the truth, and told how that Judas was found in the sea. And ere this yet was known Judas slew the child that he had supposed to be his brother, and was son to the king, and in eschewing the sentence of death he fled anon and came into Jerusalem, and entered into the court of Pilate which then was provost. And he so pleased him that he was great with him, and had in great cherety and nothing was done without him.

Now it happed on a day that Pilate went for to disport him by a garden belonging to the father of Judas, and was so desirous to eat of the fruit of the apples that he might not forbear them. And the father of Judas knew not Judas his son, for he supposed that he had been drowned in the sea long tofore, ne the son knew not the father. When Pilate had told to Judas of his desire, he sprang into the garden of his father and gathered of the fruit for to bear to his master, but the father of Judas defended him, and there began between them much strife and debate, first by words and after with fighting, so much that Judas smote his father with a stone on the head that he slew him, and after brought the apples unto Pilate, and told to him how that he had slain him that owned the garden. Then sent Pilate to seize all the good that the father of Judas had, and after gave his wife to Judas in marriage, and thus Judas wedded his own mother.

Now it happed on a day that the lady wept and sighed much strongly and said: Alas! how unhappy that I am! I have lost my son and my husband. My son was laid on the sea, and I suppose that he be drowned, and my husband is dead suddenly, and yet it is more grievous to me that Pilate hath remarried me against my will. Then demanded Judas of this child, and she told him how he was set in the sea, and Judas told to her how he had been found in the sea, in such wise that she wist that she was his mother, and that he had slain his father and wedded his mother. Wherefore then he went to Jesu Christ, which did so many miracles, and prayed him of mercy and forgiveness of his sins. Thus far it is read in the history which is not authentic.

Our Lord made Judas one of his apostles and retained him in his company, and was so privy with him that he was made his procurator, and bare the purse for all the other, and stole of that which was given to Christ. Then it happed that he was sorry and angry for the ointment that Mary Magdalene poured on the head and feet of our Lord Jesu Christ and said that it was worth three hundred pence, and said that so much he had lost, and therefore sold he Jesu Christ for thirty pence of that money usual, of which every penny was worth ten pence, and so he recovered three hundred pence. Or after that some say that he ought to have of all the gifts that was given to Jesu Christ the tenth penny, and so he recovered thirty pence of that he sold him, and nevertheless at the last he brought them again to the temple, and after hung himself in despair, and his body opened and cleft asunder and his bowels fell out. And so it appertained well that it should so be, for the mouth which God had kissed ought not to be defouled in touching, and also he ought not to die on the earth because all earthly creatures ought to hate him, but in the air where devils and wicked spirits be, because he had deserved to be in their company.
As to music, this recording of the old French "Écoutez Tous Petits et Grands" -- made by Eric Montbel -- captures the feeling of the day very well:
Écoutez tous petits et grands

Si vous voulez l'entendre
Ah Jésus ! Si vous voulez l'entendre

Quand Jésus était tout petit
Il ressemble un ange Ah Jésus !…..

Il a jeûné quarante jours
Sans prendre soutenance Ah Jésus !….

Au bout de ces quarante jours
Il a pris soutenance
Il a pris une gout' de vin blanc
Et un morceau d'orange
Saint Jean a dit à notre Seigneur
La trahison est grande
Avant qu'il soit Vendred' minuit
Vous voirez mon côt' pendre
Vous voirez mon côté parcé
Du ferre de la lance
Vous voirez mon sang répandu
Tout le long de mes membres
Vous voirez mon sang ramassé
Par trois ou quatre-s-anges
Vous les voirez monter au Ciel
En chantant les louanges
Vous voirez mon corps porter en terre
Par trois ou quatre-s-anges
Vous entendrez le coq chanter
Aussi la poule blanche
Vous voirez les étoiles tomber
Les pierres, les cailloux fendre
Vous voirez la mer surmonter
Au-dessus des montagnes
Vous entendrez toutes les oiseaux
Qu'ils crieront vengeance
Vengeance ici, vengeance et là

C'est le Sauveur du Monde Ah Jésus !
C'est le Sauveur du Monde
Listen to all young and old

If you want to hear it
Oh Jesus! If you want to hear it

When Jesus was little
He looks like an angel Ah Jesus!…..

He fasted forty days
Without taking sustenance Ah Jesus!….

At the end of these forty days
He took sustenance
He took a taste of white wine
And a piece of orange
Saint John said to our Lord
The betrayal is great
Before it's midnight Friday
You will see my side hang open
You will see my side pierced by a
Spearhead
You will see my blood spilled
All along my limbs
You will see my blood picked up
By three or four angels
You will see them ascend to Heaven
Singing the praises
You will see my body carried to earth
By three or four angels
You will hear the rooster crow
Also the white hen
You will see the stars fall
The stones, the pebbles to split
You will see the sea overcome
above the mountains
You will hear all the birds
That they will cry revenge
Revenge here, revenge and there

He is the Savior of the World Ah Jesus!
He is the savior of the world

Customs
Today and during the Sacred Triduum, the Matins and Lauds of the Divine Office are often sung in a haunting service known as the Tenebrae service ("tenebrae" meaning "shadows"), which is basically a funeral service for Jesus. During the Matins on Good Friday, one by one, fifteen candles are extinguished in the Church, leaving the congregation in total darkness, and in a silence that is punctuated at the end by the strepitus -- a clattering, banging sound meant to evoke the convulsion of nature at the death of Christ. It has also been described as the sound of the tomb door closing.

During the Triduum, the Matins and Lauds readings come from the following day's readings each night because the hours of Matins and Lauds were pushed back so that the public might better participate during these special three days (i.e., the Matins and Lauds readings heard at Spy Wednesday's tenebrae service are those for Maundy Thursday, the readings for Maundy Thursday's tenebrae service are from Good Friday, and Good Friday's readings are from Holy Saturday's Divine Office).

Legend says that the tree upon which Judas hanged himself was the Cercis siliquastrum -- a tree that is now known as the "Judas Tree." It is a beautiful tree, native to the Mediterranean region, with brilliant deep pink flowers in the spring -- flowers that are said to have blushed in shame after Judas's suicide.




Readings


St. John Chrysostom's Homily 81 on Matthew


Matthew 26:17-18.

Now the first day of the feast of unleavened bread the disciples came to Jesus, saying, Where will You that we prepare for You to eat the Passover? And He said, Go into the city to such a man, and say unto him, The Master says, My time is at hand; I will keep the Passover at your house with My disciples.

By the first day of the feast of unleavened bread, he means the day before that feast; for they are accustomed always to reckon the day from the evening, and he makes mention of this in which in the evening the passover must be killed; John 13:1 for on the fifth day of the week they came unto Him. And this one calls the day before the feast of unleavened bread, Luke 22:7 speaking of the time when they came to Him, and another says on this wise, Then came the day of unleavened bread, when the passover must be killed; by the word came, meaning this, it was near, it was at the doors, making mention plainly of that evening. For they began with the evening, wherefore also each adds, when the passover was killed.

And they say, Where will You that we prepare for You to eat the passover? So even from this it is manifest, that He had no house, no place of sojourning; and I suppose neither had they. For surely they would have entreated him to come there. But neither had they any, having now parted with all things.

But wherefore did He keep the passover? To indicate by all things unto the last day, that He is not opposed to the law.

And for what possible reason does He send them to an unknown person? To show by this also that He might have avoided suffering. For He who prevailed over this man's mind, so that he received them, and that by words; what would He not have done with them that crucified Him, if it had been His will not to suffer? And what He did about the ass, this He did here also. For there too He says, If any man say anything unto you, you shall say, that the Lord has need of them; Matthew 21:3 and so likewise here, The Master says, I will keep the passover at your house. But I marvel not at this only, that he received Him, being unknown, but that expecting to bring upon himself such enmity and implacable hostility, he despised the enmity of the multitude.

After this, because they knew him not, He gave them a sign, like as the prophet touching Saul, saying, You shall find one going up and carrying a bottle; 1 Samuel 10:3 and here, carrying a pitcher. And see again the display of his power. For He did not only say, I will keep the passover, but He adds another thing also, My time is at hand. And this He did, at once continually reminding His disciples of the passion, so that exercised by the frequency of the prediction, they should be prepared for what was to take place; and at the same time to show to themselves, and to him that was receiving Him, and to all the Jews, which I have often mentioned, that not involuntarily does He come to His passion. And He adds, with my disciples, in order that both the preparation should be sufficient, and that the man should not suppose that He was concealing Himself.

Now when the evening had come, He sat down with the twelve disciples. Oh the shamelessness of Judas! For he too was present there, and came to partake both of the mysteries, and of the meal, and is convicted at the very table, when although he had been a wild beast, he would have become tame.

For this cause the evangelist also signifies, that while they are eating, Christ speaks of His betrayal, that both by the time and by the table he might show the wickedness of the traitor.

For when the disciples had done, as Jesus had appointed them, when the evening had come, He sat down with the twelve. And as they did eat, He said, we are told, Verily, I say unto you, that one of you shall betray me. And before the supper, He had even washed his feet. And see how He spares the traitor. For He said not, such a one shall betray me; but, one of you, so as again to give him power of repentance by concealment. And He chooses to alarm all, for the sake of saving this man. Of you, the twelve, says He, that are everywhere present with me, whose feet I washed, to whom I promised so many things.

Intolerable sorrow thereupon seized that holy company. And John indeed says, they were in doubt, and looked one upon another, and each of them asked in fear concerning himself, although conscious to themselves of no such thing. But this evangelist says, that being exceeding sorrowful, they began every one of them to say unto Him, Is it I, Lord? Matthew 26:22 And He answered and said, He it is, to whom I shall give a sop, when I have dipped it.

Mark at what time He discovered him. It was when it was His will to deliver the rest from this trouble, for they were even dead with the fear, wherefore also they were instant with their questions. But not only as desiring to deliver them from their distress He did this, but also as willing to amend the traitor. For since after having often heard it generally, he continued incorrigible, being past feeling, He being minded to make him feel more, takes off his mask.

For when being sorrowful they began to say, Is it I, Lord? He answered and said, He that dips with me in the dish, the same shall betray me. The Son of Man goes, as it is written of Him, but woe to the man by whom the Son of Man is betrayed. It had been good for that man if he had not been born.

Now some say that he was so bold as not to honor his Master, but to dip with Him: but to me Christ seems to have done this too, to shame him the more, and bring him over to a better disposition. For this act again has something more in it.

2. But these things we ought not to pass by at random, but they should be instilled in our minds, and wrath would find no place at any time.

For who, bearing in mind that supper, and the traitor sitting at meat with the Saviour of all, and Him who was to be betrayed thus meekly reasoning, would not put away all venom of wrath and anger? See at any rate how meekly He conducts Himself towards him, The Son of Man goes, as it is written of Him.

And these things again He said, both to restore the disciples, that they might not think the thing was a sign of weakness, and to amend the traitor.

But woe unto that man by whom the Son of Man is betrayed! It had been good for that man if he had not been born. See again in His rebukes His unspeakable meekness. For not even here with invective, but more in the way of compassion, does He apply what He says, but in a disguised way again; and yet not his former senselessness only, but his subsequent shamelessness was deserving of the utmost indignation. For after this conviction he says, Is it I, Lord? Oh insensibility! He inquires, when conscious to himself of such things. For the evangelist too, marvelling at his boldness, says this. What then says the most mild and gentle Jesus? You say. And yet He might have said, O thou unholy, thou all unholy one; accursed, and profane; so long a time in travail with mischief, who hast gone your way, and made satanical compacts, and hast agreed to receive money, and hast been convicted by me too, do you yet dare to ask? But none of these things did He say; but how? You say? fixing for us bounds and rules of long suffering.

But some one will say, Yet if it was written that He was to suffer these things, wherefore is Judas blamed, for he did the things that were written? But not with this intent, but from wickedness. For if you inquire not concerning the motive, you will deliver even the devil from the charges against him. But these things are not, they are not so. For both the one and the other are deserving of countless punishments, although the world was saved. For neither did the treason of Judas work out salvation for us, but the wisdom of Christ, and the good contrivance of His fair skill, using the wickednesses of others for our advantage.

What then, one may say, though Judas had not betrayed Him, would not another have betrayed Him? And what has this to do with the question? Because if Christ must needs be crucified, it must be by the means of some one, and if by some one, surely by such a person as this. But if all had been good, the dispensation in our behalf had been impeded. Not so. For the Allwise knows how He shall bring about our benefits, even had this happened. For His wisdom is rich in contrivance, and incomprehensible. So for this reason, that no one might suppose that Judas had become a minister of the dispensation, He declares the wretchedness of the man. But some one will say again, And if it had been good if he had never been born, wherefore did He suffer both this man, and all the wicked, to come into the world? When you ought to blame the wicked, for that having the power not to become such as they are, they have become wicked, you leave this, and busiest yourself, and art curious about the things of God; although knowing that it is not by necessity that any one is wicked.

But the good only should be born, he would say, and there were no need of hell, nor punishment, nor vengeance, nor trace of vice, but the wicked should either not be born at all, or being born should straightway depart.

First then, it were well to repeat to you the saying of the apostle, Nay but, O man, who are you that repliest against God? Shall the thing formed say to Him that formed it, Why have You made me thus?

But if you still demandest reasons, we would say this, that the good are more admired for being among the bad; because their long-suffering and great self-command is then most shown. But you take away the occasion of their wrestlings, and conflicts, by saying these things. What then, in order that these may appear good, are others punished? says he. God forbid, but for their own wickedness. For neither because they were brought into the world did they become wicked, but on account of their own wickedness; wherefore also they are punished. For how should they fail to be deserving of punishment, seeing they have so many teachers of virtue, and gain nothing therefrom. For like as the noble and good are worthy of double honor, because they both became good, and took no hurt from the wicked; so also the worthless deserve twofold punishment, both because they became wicked, when they might have become good (they show it who have become such), and because they gained nothing from the good.

But let us see what says this wretched man, when convicted by his Master. What then says he? Is it I, Rabbi? Matthew 26:25 And why did he not ask this from the beginning? He thought to escape knowledge by its being said, one of you; but when He had made him manifest, he ventured again to ask, confiding in the clemency of his Master, that He would not convict him.

3. O blindness! Whereunto has it led him? Such is covetousness, it renders men fools and senseless, yea reckless, and dogs instead of men, or rather even more fierce than dogs, and devils after being dogs. This man at least received unto him the devil even when plotting against him, but Jesus, even when doing him good, he betrayed, having already become a devil in will. For such does the insatiable desire of gain make men, out of their mind, frenzy-smitten, altogether given up to gain, as was the case even with Judas.

But how do Matthew and the other evangelists say, that, when he made the agreement touching the treason, then the devil seized him; but John, that after the sop Satan entered into him. John 13:27 And John himself knew this, for further back he says, The devil having now put into the heart of Judas, that he should betray Him. How then does he say, After the sop Satan entered into him? Because he enters not in suddenly, nor at once, but makes much trial first, which accordingly was done here also. For after having tried him in the beginning, and assailed him quietly, after that he saw him prepared to receive him, he thenceforth wholly breathed himself into him, and completely got the better of him.

But how, if they were eating the passover, did they eat it contrary to the law? For they should not have eaten it, sitting down to their meat. Exodus 12:11 What then can be said? That after eating it, they then sat down to the banquet.

But another evangelist says, that on that evening He not only ate the passover, but also said, With desire I have desired to eat this passover with you, Luke 22:15 that is, on that year. For what reason? Because then the salvation of the world was to be brought about, and the mysteries to be delivered, and the subjects of sorrow to be done away with by His death; so welcome was the cross to Him. But nothing softened the savage monster, nor moved, nor shamed him. He pronounced him wretched, saying, Woe to that man. He alarmed him again, saying, It were good for him if he had not been born. He put him to shame, saying, To whom I shall give a sop, when I have dipped it. And none of these things checked him, but he was seized by covetousness, as by some madness, or rather by a more grievous disease. For indeed this is the more grievous madness.

For what would the madman do like this? He poured not forth foam out of his mouth but he poured forth the murder of his Lord. He distorted not his hands, but stretched them out for the price of precious blood. Wherefore his madness was greater, because he was mad being in health.

But he does not utter do you say, sounds without meaning. And what is more without meaning than this language. What will you give me, and I will deliver Him unto you? Matthew 26:15 I will deliver, the devil spoke by that mouth. But he did not smite the ground with his feet struggling? Nay, how much better so to struggle, than thus to stand upright. But do you say, he did not cut himself with stones? Yet how much better, than to do such things as these!

Will ye, that we bring forward the possessed and the covetous, and make a comparison between the two. But let no one account what is done a reproach to himself. For we do not reproach the nature, but we lament the act. The possessed was never clad with garments, cutting himself with stones, and running, he rushes over rough paths, driven headlong of the devil. Do not these things seem to be dreadful? What then, if I shall show the covetous doing more grievous things than these to their own soul, and to such a degree more grievous, that these are considered child's play compared with those. Will you indeed shun the pest? Come then, let us see if they are in any respect in a more tolerable state than they. In none, but even in a more grievous condition; for indeed they are more objects of shame than ten thousand naked persons. For it were far better to be naked as to clothing, than being clad with the fruits of covetousness, to go about like them that celebrate the orgies for Bacchus. For like as they have on madmen's masks and clothes, so have these also. And much as the nakedness of the possessed is caused by madness, so does madness produce this clothing, and the clothing is more miserable than the nakedness.

And this I will hereby endeavor to prove. For whom should we say was more mad, among madmen themselves; one who should cut himself, or one who together with himself should hurt those who met him? It is quite clear that it is this last. The madmen then strip themselves of their clothing, but these all that meet them. But these tear their clothes to pieces. And how readily would every one of those that are injured consent that his garment should be torn, rather than be stripped of all his substance?

But those do not aim blows at the face. In the first place, the covetous do even this, and if not all, yet do all inflict by famine and penury more grievous pains on the belly.

But those bite not with the teeth. Would that it were with teeth, and not with the darts of covetousness fiercer than teeth. For their teeth are weapons and darts. For who will feel most pained, he that was bitten once, and straightway healed, or he that is for ever eaten up by the teeth of penury? For penury when involuntary is more grievous than furnace or wild beast.

But those rush not into the deserts like the possessed of devils. Would it were the deserts, and not the cities, that they overran, and so all in the cities enjoyed security. For now in this respect again, they are more intolerable than all the insane, because they do in the cities these things which the others do in the deserts, making the cities deserts, and like as in a desert, where there is none to hinder, so plundering the goods of all men.

But they do not pelt with stones them that meet them. And what is this? Of stones it were easy to beware; but of the wounds which by paper and ink they work to the wretched poor (framing writings full of blows without number), who, out of those that fall in with them, can ever easily beware?

4. And let us see also what they do to themselves. They walk naked up and down the city, for they have no garment of virtue. But if this does not seem to them to be a disgrace, this again is of their exceeding madness, for that they have no feeling of the unseemliness, but while they are ashamed of having their body naked, they bear about the soul naked, and glory in it. And if you wish, I will tell you also the cause of their insensibility. What then is the cause? They are naked among many that are thus naked, wherefore neither are they ashamed, like as neither are we in the baths. So that if indeed there were many clothed with virtue, then would their shame appear more. But now this above all is a worthy subject for many tears, that because the bad are many, bad things are not even esteemed as a disgrace. For besides the rest, the devil has brought about this too, not to allow them to obtain even a sense of their evil deeds, but by the multitude of them that practise wickedness, to throw a shade over their disgrace; since if it came to pass that he was in the midst of a multitude of persons practising self-restraint, such a one would see his nakedness more.

That they are more naked than the possessed is evident from these things; and that they go into the deserts, neither this again could any one gainsay. For the wide and broad way is more desert than any desert. For though it have many that journey on it, yet none from among men, but serpents, scorpions, wolves, adders, and asps. Such are they that practise wickedness. And this way is not only desert, but much more rugged than that of the mad. And this is hereby evident. For stones and ravines and crags do not so wound those that mount them, as robbery and covetousness the souls that practise them.

And that they live by the tombs, like the possessed, or rather that they themselves are tombs, is plain by this. What is a tomb? A stone having a dead body lying in it. Wherein then do these men's bodies differ from those stones? Or rather, they are more miserable even than they. For it is not a stone containing a dead body, but a body more insensible than stones, bearing about a dead soul. Wherefore one would not be wrong in calling them tombs. For so did our Lord too call the Jews, for this reason most especially; He went on at least to say, Their inward parts are full of ravening and covetousness.

Would ye that I show next, how they also cut their heads with stones? Whence then first, I pray you, will you learn this? From the things here, or from the things to come? But of the things to come they have not much regard; we must speak then of the things here. For are not anxieties more grievous than many stones, not wounding heads, but consuming a soul. For they are afraid, lest those things should justly go forth out of their house, which have come unto them unjustly; they tremble in fear of the utmost ills, are angry, are provoked, against those of their own house, against strangers; and now despondency, now fear, now wrath, comes upon them in succession, and they are as if they were crossing precipice after precipice, and they are earnestly looking day by day for what they have not yet acquired. Wherefore neither do they feel pleasure in the things they have, both by reason of not feeling confidence about the security of them, and because with their whole mind they are intent upon what they have not yet seized. And like as one continually thirsting, though he should drink up ten thousand fountains, feels not the pleasure, because he is not satisfied; so also these, so far from feeling pleasure, are even tormented, the more they heap around themselves; from their not feeling any limit to such desire.

And things here are like this; but let us speak also of the day to come. For though they give not heed, yet it is necessary for us to speak. In the day to come then, one will see everywhere such men as these undergoing punishment. For when He says, I was an hungered, and you gave me no meat; I was thirsty, and you gave me no drink; Matthew 25:42 He is punishing these; and when He says, Depart into the eternal fire prepared for the devil, He is sending there them that make a bad use of riches. And the wicked servant, who gives not to his fellow-servants the goods of his Lord, is of the number of these men, and he that buried his talent, and the five virgins.

And wherever you shall go, you will see the covetous punished. And now they will hear, There is a void between us and you; now, Depart from me into the fire that is prepared. Matthew 25:41 And now being cut asunder, they will go away, where there is gnashing of teeth, and from every place one may see them driven, and finding a place nowhere, but gathered in hell alone.

5. What then is the use of the right faith to us for salvation, when we hear these things? There, gnashing of teeth, and outer darkness, and the fire prepared for the devil, and to be cut asunder, and to be driven away; here, enmities, evil speakings, slanders, perils, cares, plots, to be hated of all, to be abhorred of all, even of the very persons that seem to flatter us. For as good men are admired not by the good only but even by the wicked; so bad men, not the good only, but also the worthless, hate. And in proof that this is true, I would gladly ask of the covetous, whether they do not feel painfully one toward another; and account such more their enemies than those that have done them the greatest wrong; whether they do not also accuse themselves, whether they do not account the thing an affront, if any one brings this reproach upon them. For indeed this is an extreme reproach, and a sure proof of much wickedness; for if you dost not endure to despise wealth, of what will you ever get the better? Of lust, or of the mad desire of glory, or anger, or of wrath? And how would any be persuaded of it? For as to lust, and anger, and wrath, many impute it even to the temperament of the flesh, and to this do students of medicine refer the excesses thereof; and him that is of a more hot and languid temperament, they affirm to be more lustful; but him that runs out into a drier kind of ill temperament, eager, and irritable, and wrathful. But with respect to covetousness, no one ever heard of their having said any such thing. So entirely is the pest the effect of mere remissness, and of a soul past feeling.

Therefore, I beseech you, let us give diligence to amend all such things, and to give an opposite direction to the passions that come upon us in every age. But if in every part of our life we sail past the labors of virtue, everywhere undergoing shipwrecks; when we have arrived at the harbor destitute of spiritual freight, we shall undergo extreme punishment. For our present life is an outstretched ocean. And as in the sea here, there are different bays exposed to different tempests, and the Ægean is difficult because of the winds, the Tyrrhenian strait because of the confined space, the Charybdis that is by Africa because of the shallows, the Propontis, which is without the Euxine sea, on account of its violence and currents, the parts without Cadiz because of the desolation, and tracklessness, and unexplored places therein, and other portions for other causes; so also is it in our life.

And the first sea to view is that of our childish days, having much tempestuousness, because of its folly, its facility, because it is not steadfast. Therefore also we set over it guides and teachers, by our diligence adding what is wanting to nature, even as there by the pilot's skill.

After this age succeeds the sea of the youth, where the winds are violent as in the Ægean, lust increasing upon us. And this age especially is destitute of correction; not only because he is beset more fiercely, but also because his faults are not reproved, for both teacher and guide after that withdraw. When therefore the winds blow more fiercely, and the pilot is more feeble, and there is no helper, consider the greatness of the tempest.

After this there is again another period of life, that of men, in which the cares of the household press upon us, when there is a wife, and marriage, and begetting of children, and ruling of a house, and thick falling showers of cares. Then especially both covetousness flourishes and envy.

When then we pass each part of our life with shipwrecks, how shall we suffice for the present life? How shall we escape future punishment. For when first in the earliest age we learn nothing healthful, and then in youth we do not practise sobriety, and when grown to manhood do not get the better of covetousness, coming to old age as to a hold full of bilgewater, and as having made the barque of the soul weak by all these shocks, the planks being separated, we shall arrive at that harbor, bearing much filth instead of spiritual merchandise, and to the devil we shall furnish laughter, but lamentation to ourselves, and bring upon ourselves the intolerable punishments.

That these things may not be, let us brace ourselves up on every side, and, withstanding all our passions, let us cast out the lust of wealth, that we may also attain unto the good things to come, by the grace and love towards man of our Lord Jesus Christ, to whom be glory forever and ever. Amen.




Footnotes:
1 St. Matthew attributes this prophecy to Jeremias in Matthew 27:9, "Then was fulfilled that which was spoken by Jeremias the prophet, saying: And they took the thirty pieces of silver, the price of him that was prized, whom they prized of the children of Israel." It is assumed that he was reading the prophecies of Jeremias and Zacharias together because of the latter's allusions to Israel being as a piece of clay in a potter's hands (Jeremias 18:1-10, Jeremias 32:6-9, Jeremias 19:1-13) and how this relates to Israel's fate as typified by Judas's body bursting open, etc.