St. Elizabeth, born in Hungary in 1207, came from a family of Saints. Her Aunt was St. Hedwig, and her great-niece was St. Elizabeth (Isabel) of Portugal. Her parents were ordinary royalty -- King Andrew II of Hungary, and Gertrude -- whose political concerns led them to arrange their daughter's marriage when she was only four years old. At that age, she was sent to Thuringia -- then a duchy, now a state in the center of Germany -- so she could learn the Thuringian ways and, when she came of age, be betrothed to the eldest son of Thuringia's rulers.

St. Elizabeth was a very pious child, and she suffered much. Her mother was murdered by Hungarian nobles when she was six years old, and the boy she was to marry died. So she was betrothed to his younger brother, Ludwig. In 1221, they married; Elizabeth was fourteen years old.

The Catholic Encyclopedia tells us that



[t]he marriage was in every regard a happy and exemplary one, and the couple were devotedly attached to each other. Ludwig proved himself worthy of his wife. He gave his protection to her acts of charity, penance, and her vigils, and often held Elizabeth's hands as she knelt praying at night beside his bed. He was also a capable ruler and brave soldier. The Germans call him St. Ludwig, an appellation given to him as one of the best men of his age and the pious husband of St. Elizabeth.



But Elizabeth's piety stood out, and caused the more wordly-minded people of her court to treat her with suspicion and disdain. Pope Benedict XVI, in a general audience, described the scene:



Elizabeth...became the object of critical whispers because her behaviour was incongruous with court life. Hence their marriage celebrations were far from sumptuous and a part of the funds destined for the banquet was donated to the poor.

With her profound sensitivity, Elizabeth saw the contradictions between the faith professed and Christian practice. She could not bear compromise. Once, on entering a church on the Feast of the Assumption, she took off her crown, laid it before the Crucifix and, covering her face, lay prostrate on the ground. When her mother-in-law reprimanded her for this gesture, Elizabeth answered:

"How can I, a wretched creature, continue to wear a crown of earthly dignity, when I see my King Jesus Christ crowned with thorns?".

She behaved to her subjects in the same way that she behaved to God. Among the Sayings of the four maids we find this testimony: "She did not eat any food before ascertaining that it came from her husband's property or legitimate possessions. While she abstained from goods procured illegally, she also did her utmost to provide compensation to those who had suffered violence."

She is a true example for all who have roles of leadership: the exercise of authority, at every level, must be lived as a service to justice and charity, in the constant search for the common good.

Elizabeth diligently practised works of mercy: she would give food and drink to those who knocked at her door, she procured clothing, paid debts, cared for the sick and buried the dead. Coming down from her castle, she often visited the homes of the poor with her ladies-in-waiting, bringing them bread, meat, flour and other food. She distributed the food personally and attentively checked the clothing and mattresses of the poor.

This behaviour was reported to her husband, who not only was not displeased but answered her accusers, "So long as she does not sell the castle, I am happy with her!".










Her husband approved, but others around her -- well, not so much. Once, when she was taking bread to the poor, people of the court accused her of stealing from the castle to give their wealth away. Her husband, in order to quell their nasty suspicions, asked her to open her apron and show what she carried -- and when she did, roses tumbled out.

She became even more dedicated to acquiring the virtues after hearing the preaching of Franciscans in the area. Thereafter, she served the poor and the sick more even more earnestly. She spun wool and wove cloth to make clothes for the poor, she washed and buried the dead, she brought toys to children. When famine struck in the winter of 1225, she opened the granaries to make sure her people had food.

Her service to the ill elicited yet another miracle, this time the granting of a vision to her husband. She had let a leper use her and her husband's bed -- their actual, marital bed. Elizabeth's mother-in-law, a generally fine woman, was outraged, and Elizabeth's husband wasn't very happy about it either. But when he went to turn the covers down to move the man out, what he saw was not a leper, but Christ Himself lying in the bed.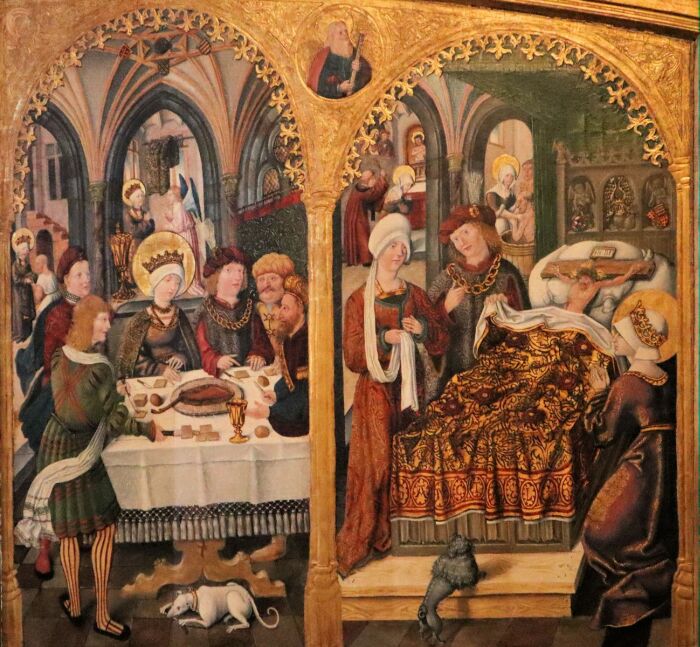 During all this work for the poor and sick, she gave her husband two children. Then came tragedy: in June of 1227, Ludwig joined the Teutonic Order -- the Catholic military society set up to establish hospitals and fight to free the Holy Land for Christian pilgrims. And he went off to fight in the Crusade of Emperor Frederick II. But he never made it home alive: some sort of fever tore through the Christian troops, and he died before he was able to make it to the battlefield. Elizabeth gave birth to his third child soon after hearing the news of her husband's death.

Her husband dead, his brother moved to usurp her position, driving her from the castle. Two of her ladies-in-waiting went with her, fleeing to her Aunt Matilda, Abbess of a Benedictine convent near Würzburg. Matilda sent them to Elizabeth's Uncle, the Bishop of Bamberg. The Bishop wanted her to remarry, but Elizabeth refused, having made a vow that she would remain continent if her husband were to die.

She went beyond embracing continence, though: she became a Franciscan tertiary (as did King St. Louis IX of France), renouncing the world entirely. Her two ladies-in-waiting followed her example. In 1228, she built the Francsican hospital in Marburg, and spent the rest of her short life tending to the sick, "especially to those afflicted with the most loathsome diseases," as the Catholic Encyclopedia relates. For three years she served Christ by serving the ill -- not just by occasionally wiping a brow and looking concerned, but by engaging in the more revolting nursing tasks.

Then, at the age of twenty-four, on the night of November 16/17, 1231, she died, and her funeral was held on November 19, Immediately, miraculous cures came about for pilgrims who visited her grave, which was located in the church of the hospital she built.

But the fate of her relics -- and her castle -- makes for a horrible story. A church was built in her honor --

Elisabethkirche

in Marburg -- and when her body was moved to it, the church became a great pilgrimage site. But then came the Protestant rebellion, and one of Elizabeth's own descendants, Philip I, Landgrave of Hesse, demanded her relics so he could disperse them and put an end to what he considered popish nonsense. He took away her head, but returned it after the Holy Roman Emperor Charles V arrested him. Then the Swedes plundered the place during the Thirty Years' War, and took her head's reliquary to Sweden. Her skull ended up in

Elisabethinenkirche

in Vienna, where it remains, and some of her relics can be venerated at the Cathedral of Bogotá, Colombia, a city for which she is the patron Saint.

As to her castle, "the Wartburg," which overlooks Eisenach, Thuringia, Germany: it is here where the heretic Martin Luther stayed after he was excommunicated, and it was here where he made his translation of the New Testament, taking a mere ten weeks to do it. Thuringia was one of the first parts of Germany to embrace Nazism, and after WWII, it became a part of Communist East Germany.

Both the

Elisabethkirche

and the Wartburg remain, but both are in the hands of Protestants. The Franciscan hospital she built is, alas, in ruins. A curved wall from its chapel is all that remains.

The great St. Elizabeth of Hungary deserves so much better.

St. Elizabeth is the patron of bakers, beggars, brides, nursing, and charity work. She is also, along with King St. Louis IX, patron of the Franciscan Third Order. She is usually depicted in art as a queen -- often with a triple crown symbolizing her three roles as mother, "duchess" (landgravine), and saint -- feeding the poor, caring for the sick, or with an apron full of bread or roses.

Note that her feast is celebrated on November 17 instead of November 19 in the Novus Ordo.





Customs



Some prepare for today by praying the Novena to St. Elizabeth of Hungary starting on November 10 and ending on November 18, the eve of this feast. As to prayer for the feast itself, this prayer from the Raccolta is hard to beat:



Blessed Elizabeth, vessel elect of exalted virtues, thou dost show forth to the world by thy example what the virtues of Faith, Hope, and Charity are able to do in a Christian soul.

Thou didst employ all the powers of thy heart to love thy God alone. Thou didst love Him with a love so pure and fervent, that it rendered thee worthy to taste upon earth beforehand those favours and those sweetnesses of Paradise which are communicated to souls invited to the nuptials of the Divine, adorable Lamb of God.

Thou, illuminated by supernatural light, and faith immovable, which showed thee to be a true daughter of the holy Gospel, didst see in the person of thy neighbour the Passion of our Lord Jesus Christ, sole object of thy affections; and therefore didst thou place all thy delight in holding converse with the poor, in serving them, in drying their tears and comforting their spirits, in assisting them with every pious good office in the midst of pestilence, and in the midst of the many miseries to which our human nature is subject.

Thou didst make thyself poor in order to succour thy neighbour in his poverty; poor in the good things of earth, to enrich thyself with the goods of heaven.

Thou wast so humble that, after thou hadst exchanged a throne for a poor hovel, and a royal mantle for the modest habit of St. Francis, thou didst subject thyself, innocent though thou wast, to a life of privation and of penance, and with holy grace didst embrace the cross of thy Redeemer, with good will accepting insults and the most unjust persecution; thou didst forget the world and thyself, to remember thy God alone.

O most lovable Saint, whom we will dare to call our dear St. Elizabeth, uniting our voices with the voices of so many souls devoted to thee; O thou who wast so beloved by God, vouchsafe to be the heavenly friend of our souls, and aid them to become friends of thy Friend, thy loving Jesus. Cast down upon us from the height of heaven one of those tender looks which, which thou wast upon earth, healed the most cruel infirmities of men. In the age in which we live, so full of moral revolutions, and at the same time so cold and so indifferent for the things of God, we have recourse to thee with confidence, in order that, borrowing our light from thy light, we may rekindle within ourselves the fire of thy exalted love, and thus obtain peace of soul.

Whilst we bless the Lord for having glorified His name in this world with the splendour of thy heroic virtues, and by the eternal reward granted to them, do thou, dear Saint Elizabeth, bless us still from the seat thou dost occupy beside the Saint of saints, protect us in our dangerous pilgrimage, obtain for us by thy intercession pardon for our failings, and open to us the way to enter in and share with thee the Kingdom of God. Amen.



Then, too, there is the Litany of St. Elizabeth of Hungary which may appeal to you more. Or pray both!

Because two of St. Elizabeth's symbols are bread and roses, combining the two makes sense, so here's a recipe for a midly sweet, cinnamon-flavored, rose-shaped bread that would be a good way to celebrate this feast:



Rose Bread

The Dough:

1 package (1.4 ounce) dry active yeast

1/2 cup warm water (110 degrees F)

1/3 cup sugar

1/2 teaspoon salt

1/3 cup butter, softened

1 egg, room temperature, slightly beaten

1/2 cup milk, scalded and cooled to between 105 and 115 degrees F

4 cups flour (divided)

The Filling:

1 stick (1/2 cup) butter, softened

1/2 cup sugar

1 TBSP cinnamon

To Finish:

Powdered sugar

In a large bowl, dissolve the yeast in warm water (between 105 and 115 degrees F). Whisk to mix it well, then let it sit for at least 5 minutes.

When the yeast is foamy, add sugar, salt, butter, scalded and cooled milk, and egg to it. Mix in 2 cups of the flour, mixing until smooth. Mix in the remaining 2 cups of flour, until dough is combined and easy to handle.

When the dough is smooth and elastic, coat a bowl with a bit of oil and place the dough ball in the bowl, turning it over a few times to makes sure it's coated in the oil. Cover the bowl with a slightly damp towel and let the dough rise in a warm place until it's doubled in size. (about 90 minutes. Your oven with just the light on and the door cracked is a good spot to let bread rise)

Dust a large surface with flour, and then roll the dough into a large rectangle on it -- as large as you can make it. Spread the butter over the top of the rectangle. Mix the 1/2 cup of sugar and 1 TBSP cinnamon together and spread it over the top of the butter. Starting at one of the long sides of the rectangle, roll the dough into a long tube. Use a sharp knife to slice the tube lengthwise all of the way through, and turn the cut edges outward so the cinnamon layers are pointing out. Pinch one end of the two strips together and carefully begin crossing the sides over one another to create a single "braided" twist. Then coil the twist into a tight spiral (i.e., with no gaps between the concentric circles).

Grease the bottom and the sides of a springform pan. Remove the sides of the springform pan, slide the twisted dough on to the bottom of the pan, then put the sides of the pan back on. Cover the dough with a slightly damp towel and let it rise for another 30 minutes or so.

Preheat oven to 375 degrees. Bake for about 25-30 minutes, or until the center is done and the top is golden brown. Cool on a baking rack. Dust with powdered sugar.


Serve the bread up with coffee or tea, and the music of Franz Liszt, perhaps the world's frst "rock star" whose charisma, handsomness, and talent sent women swooning -- a Hungarian composer who, like St. Elizabeth of Hungary, became a Third Order Franciscan (later, he was ordained to the minor clerical orders). Below is his

Die Legende von der Heiligen Elisabeth

which he wrote for our Saint:




In times past, in Germany, today was a day for offering acts of charity. The wealthy would put aside money today for the poor for Christmas. Of course, any day is a good day for an act of charity, but doing so in the spirit of St. Elizabeth of Hungary is all the sweeter.

For a bit of weather lore to close the page: the Germans say "

Es kündet St. Elisabeth was für ein Winter vor uns steht

" -- "St. Elizabeth announces what sort of Winter we'll have."