As are all flowers, the month of May is dedicated to the Blessed Virgin Mary, whom we more formally celebrate as Queen of Heaven on the last day of this month. Early in May, a statue of the Virgin at church is crowned with a wreath of roses, and roses are laid at her feet. Little girls and boys dress up in their best, often in blue or in their First Communion clothes; one child carries the crown on a cushion to the statue and another child is chosen to crown the statue. The selection process varies -- sometimes a boy is chosen to bear the wreath, but always a girl is chosen to crown the statue (usually the oldest girl). The flowers remain throughout the month. Hymns are sung, too, and especially favored is the Victorian "Bring Flowers of the Rarest" (lyrics and melody here).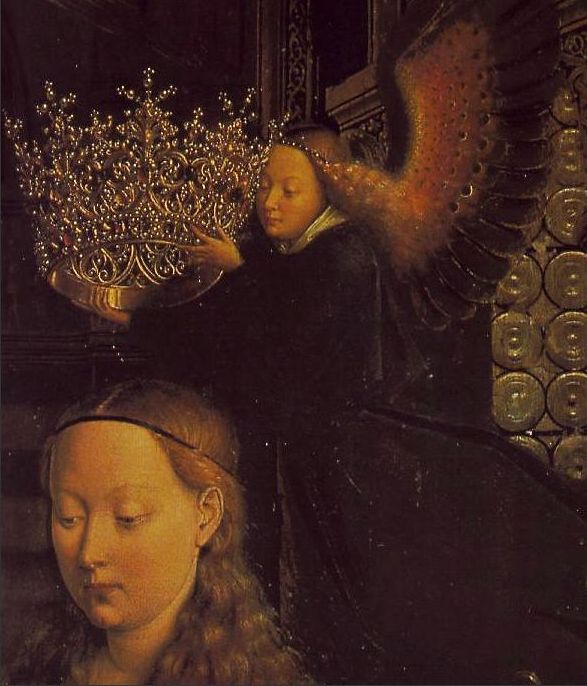 Catholics honor Mary at home, too, crowning the true May Queen's statue with flowers at their family altars, and leaving roses (especially red and/or white ones) at her feet, for the entire month of May. If you don't have a statue of Our Lady, you can place flowers around a picture of her. 1 To accompany the crowning, most any Marian devotion would serve well (e.g., the Rosary, the Little Crown of the Blessed Virgin, the Litany of Loreto, etc.)

A communal element of May 1 celebrations -- "maying" -- is the Maypole -- the erection of a very tall wooden pole from which hang flowers and, often, great colored ribbons. If ribbons are present, they are taken in hand by dancers who dance around the pole such that the ribbons become wrapped around it. Sometimes the Maypole will be painted in various colors important to the area in which it is raised, or carved with symbols of local industry (for an interesting tale of the fate of an historical Maypole in the United States, see Nathaniel Hawthorne's short story "The May-pole of Merry Mount" (pdf, 8 pages).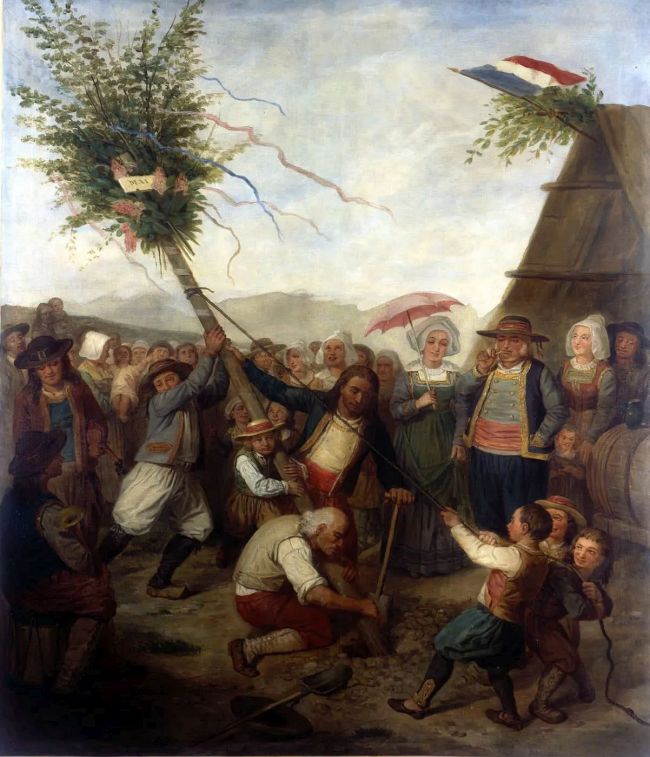 In some maying celebrations, a king and queen of May -- invariably a young, unmarried couple -- are chosen and feted, and in some places, little baskets -- "May baskets" -- are filled with flowers, fruits, baked goods, or candies and left on friends' and neighbors' doorsteps. Oh, and women have the custom of getting up early and walking barefoot outdoors to gather morning dew with which to wash their faces, letting their skin dry naturally, without using a towel. This is said by various sources to have different effects -- everything from a beautiful complexion to luck to wealth to good crops to the ability to more easily undo knots.

And the figure of the foliage-covered Green Man, that great and ancient symbol of Spring, may make an appearance. The Green Man's leafy visage can be found carved and painted in both churches and secular buildings all over Europe and in the Middle East. For Christians, he is associated with Adam and the Cross as told in a story recorded by Jacobus de Voragine (d. 1298) in his "Golden Legend," which recounts how Adam's son, Seth, cared for his father's body after death:

[A]ll the days of Adam living here in earth amount to the sum of nine hundred and thirty years. And in the end of his life when he should die, it is said, but of none authority, that he sent Seth his son into Paradise for to fetch the oil of mercy, where he received certain grains of the fruit of the tree of mercy by an angel.

And when he came again he found his father Adam yet alive and told him what he had done. And then Adam laughed first and then died. And then he laid the grains or kernels under his father's tongue and buried him in the vale of Hebron; and out of his mouth grew three trees of the three grains, of which trees the Cross that our Lord suffered His passion on was made, by virtue of which He gat very mercy, and was brought out of darkness into very light of heaven. To the which He bring us that liveth and reigneth God, world without end.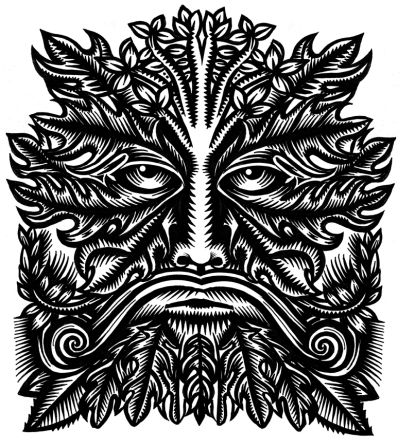 Generally, this is the time to get outside, have picnics, gather flowers, and enjoy the feeling of springtime (while you're gathering flowers, get some violets to dry out and use to make Violet Wine on the Feast of St. Hildegard von Bingen). For secular music to accompany your maying activities, the classic is "Now is the Month of Maying," written by Thomas Morley in 1595. Note that this song could be read as bawdy: "barley break" refers to a chasing game made of three couples (each couple consists of a man and a woman) who are each stationed in a row in "bases." The bases are marked plots of land anywhere from 10 to 50 feet square. The middle base is called the "barley field," "Hell," or "prison," and the couple stationed on it link arms and have the goal of capturing the other two couples, who try to enter the "barley field" without getting caught. When someone is caught, he has to remain in the barley field until his companion is also caught by the couple linking arms, who can't leave their plot, but have to try to catch the couples daring to enter the barley field, taunting the middle couple with the phrase "barley break!". Once a couple is caught, they have to link arms and become the catchers. At any rate, the term "barley-break" has been used in old poetry to refer to the sexual act. But it doesn't have to be read that way in this song:
Now is the month of maying,
When merry lads are playing,
Fa la la la la la la la la,
Fa la la la la la lah.
Now is the month of maying,
When merry lads are playing,
Fa la la la la la la la la,
Fa la la la la la lah.
Each with his bonny lass
Upon the greeny grass.
Fa la la la la la la la la,
Fa la la la la la lah.
Each with his bonny lass
Upon the greeny grass.
Fa la la la la la la la la,
Fa la la la la la lah.

The Spring, clad all in gladness,
Doth laugh at Winter's sadness,
Fa la la la la la la la la,
Fa la la la la la lah.
The Spring, clad all in gladness,
Doth laugh at Winter's sadness,
Fa la la la la la la la la,
Fa la la la la la lah.
And to the bagpipe's sound
The nymphs tread out their ground.
Fa la la la la la la la la,
Fa la la la la la lah.
And to the bagpipe's sound
The nymphs tread out their ground.
Fa la la la la la la la la,
Fa la la la la la lah.
Fie then! why sit we musing,
Youth's sweet delight refusing?
Fa la la la la la la la la,
Fa la la la la la lah.
Fie then! why sit we musing,
Youth's sweet delight refusing?
Fa la la la la la la la la,
Fa la la la la la lah.
Say, dainty nymphs, and speak,
Shall we play barley break?
Fa la la la la la la la la,
Fa la la la la la lah.
Say, dainty nymphs, and speak,
Shall we play barley break?
Fa la la la la la la la la,
Fa la la la la la lah.
In many parts of Italy, the early days of May -- Calendimaggio -- are celebrated in a big way, most especially in Assisi. There, the celebrations, which they dedicate to St. Francis of Assisi, include great medieval dramas, medieval games and competitions, troubadours, the choosing of a May Queen, parades with floats, bonfires, feasting on porchetta (roast pig), and other delights. The entire city joins in on the fun, with townspeople dressing in medieval costumes to get into the spirit of things.

In Cocullo, Abruzzo, Italy, Saint Dominic di Sora -- a Benedictine abbot who died in 1031 -- is honored by "la Festa dei Serpari" on the first of May even though his actual feast is on January 22. Just before May 1, the people of the town hunt snakes, which they take alive and bring to the village (there are four species in the area, all non-poisonous). Then, on the feast itself, Mass is offered for the many pilgrims who come in from Lazio, Campania, and Molise. Before leaving the church, people use their mouths to pull a chain that rings a bell; this is said to prevent toothaches in the coming year (note that, for hygienic reasons, most people put a cloth in their mouth before using their teeth to grab the chain). Then a statue of St. Dominic di Sora is draped in living snakes and processed through the town while the people, many dressed in their traditional ethnic clothing, sing and handle the serpents. After the celebrations, the snakes are returned to the wild whence they came.

Now, Communists made May 1 a day dedicated to the workers they wanted to turn into revolutionaries. Against that idea, in 1955 Pope Pius XII made May 1 a special day to honor workers by honoring St. Joseph the Worker -- that is, St. Joseph, the foster-father of Jesus, in his position as a man who worked hard at carpentry to care for his family. Today, like any day, is a good day to honor the man entrusted by God to care for His Son and the Blessed Virgin. As we crown the Virgin as the true Queen of May, let's remember the man who cared for her, and for the Son Who saved them both.

Note that there is a beautiful astronomical coincidence for this time of year. In most of the populated areas of the Northern hemisphere, if you go outside early in May, face East, and look directly up overhead, you will see a relatively faint "L" in the sky (assuming the sky is clear enough). This is the constellation Coma Berenices 2 -- a decan of Virgo, the Zodiacal symbol of Our Lady. Coma Berenices was named after a Queen (actually, a Queen's hair, but that's another story), and its second brightest star is called "Diadem" -- crown of royalty. So take your children outside, point out Virgo and the star Diadem to them, and think of Our Lady, crowned in Heaven -- our Queen Mother who wants nothing more than for us to love her Son...


Spiritual Reading, an Ancient Spiritual Practice,
and St. Francis de Sales's Prayer of Consecration to the Blessed Virgin
Finally, for spiritual reading this month, you might enjoy these two books, which can be found with many others in this site's Catholic Library:
Father Gilli's book recommends a practice which you may find helpful throughout your life, one you can use not just with Our Lady, but with any favorite Saint. He writes,
Persons filled with lively faith often write letters to the Blessed Virgin Mary, placing them at the feet of her image, or upon their heart, on some solemn occasion; and this practice is very dear to her.

It is no new practice: for we see, from the Sacred Books and the history of the Church, that the most remarkable men made use of it to obtain some special grace. King Ezechias carried into the Temple the insulting letter addressed to him by Zennacherib, and laid it on the Altar as if to invite Almighty God to read it, and his prayer was heard, as we read in the Fourth Book of Kings.

The Emperor Theodosius, about to fight against Eugenius, wrote to St. Ambrose, to beg him to recommend the expedition to the God of armies. The Saint, during Mass, took the letter into his hands, and presented it to God. The result of the battle is well known.

When the Angelic Doctor, St. Thomas, met with some difficult passage in Holy Scripture, he wrote down the difficulty and placed it on his heart when he went to celebrate Mass, and the difficulties vanished.

Our Lord looks upon prayers addressed to the Blessed Virgin and to the Saints as though they were made to Himself. If we wish to obtain some grace, let us write a letter to Mary, and place it upon our heart before we approach Holy Communion. St. Stanislaus Kostka, desired to die on the Eve of the Assumption, that he might assist at its celebration in heaven. He wrote a letter to Our Blessed Lady for this purpose, and, on the feast of St. Lawrence, placed it on the Altar, asking the Saint to present it to the Queen of Heaven. The same day he was attacked by a most burning fever, and after four days went to celebrate the feast of his dear Mother Mary in heaven.

The same book also recommends the following prayer by St. Francis de Sales, which St. Francis de Sales "often repeated to the Queen of Heaven, and in which the beauty of his soul and the purity of his heart are well depicted.":

Act of Consecration of St. Francis De Sales to the Most Holy Virgin

I salute you, most sweet Virgin Mary, Mother of God; you are my Mother and my Mistress; and therefore, I entreat you to accept me as your son and your servant; I wish to have no other Mother than you. I beg you, then, my good, and gracious, and most sweet Mother, to deign to console me in all my troubles and tribulations, both spiritual and corporal. Remember, most sweet Virgin Mary, that you are my Mother, and that I am your son. You all powerful, and I poor, weak and vile. Nevertheless, I beseech you, O sweetest Mother, to keep me and defend me in all my ways and in all my actions, for, alas ! I am poor and wretched, and in need of your most holy protection. Do, then, my beloved Mother, preserve and deliver my soul and body from all dangers and evils, and make me share in your blessings, your virtues, and, in par ticular, in your holy humility, your surpassing purity and your ardent charity.

Tell me not, gracious Virgin, that you cannot do so, because your Son gave you all power in heaven and on earth. Neither tell me that you ought not to hear me, for you are the common Mother of all poor mortals, and of me in particular. If you could not grant my prayer, then I should excuse you, saying: It is true that she is my Mother, and that I am her son, but she is not able to help me. If you were not my Mother, then, indeed, I should have patience, saying: She is rich enough to be able to assist me, but, alas! not being my Mother, she does not love me. But since, most sweet Virgin, you are not only my Mother, but are also powerful, how can you be excused if you do not console me, and come to my relief and assistance? You see, my Mother, that it is difficult for you to reject any request that I may make you.

Be, then, exalted in heaven and on earth, glorious Virgin and dear Mother Mary, and, for the honour and glory of your Divine Son Jesus, accept me for your son, without regard to my miseries and sins. Deliver me from all evil of soul and body, obtain for me every virtue, and first of all humility; and bestow upon me all the benefits and graces necessary to make me pleasing to the Most Holy Trinity, Father, Son, and Holy Ghost. Amen.


Reading

The May Magnificat
by Fr. Gerard Manley Hopkins, S. J.


May is Mary's month, and I
Muse at that and wonder why :
Her feasts follow reason,
Dated due to season—

Candlemas, Lady Day ;
But the Lady Month, May,
Why fasten that upon her,
With a feasting in her honour?

Is it only its being brighter
Than the most are must delight her?
Is it opportunist
And flowers finds soonest?

Ask of her, the mighty mother:
Her reply puts this other
Question: What is Spring?—
Growth in every thing—

Flesh and fleece, fur and feather,
Grass and greenworld all together ;
Star-eyed strawberry-breasted
Throstle above her nested

Cluster of bugle blue eggs thin
Forms and warms the life within ;
And bird and blossom swell
In sod or sheath or shell.

All things rising, all things sizing
Mary sees, sympathizing
With that world of good
Nature's motherhood.

Their magnifying of each its kind
With delight calls to mind
How she did in her stored
Magnify the Lord.

Well but there was more than this:
Spring's universal bliss
Much, had much to say
To offering Mary May.

When drop-of-blood-and-foam-dapple
Bloom lights the orchard-apple
And thicket and thorp are merry
With silver-surfèd cherry

And azuring-over greybell makes
Wood banks and brakes wash wet like lakes
And magic cuckoocall
Caps, clears, and clinches all—

This ecstasy all through mothering earth
Tells Mary her mirth till Christ's birth
To remember and exultation
In God who was her salvation.





Footnotes:
1 Tip for keeping cut flowers fresh: re-cut stems, and put an aspirin, a penny, some sugar, and a 1/2 capful of bleach into their water. Change water every day and repeat the above. Keep them in a cool place -- in the fridge at night, if possible. Doing these things really will keep them fresh a lot longer!
2 "Coma Berenices" is pronounced "Coe-mah Bair-eh-nee'-chayz." To read more about the stars, especially the stars of the Zodiac and the stars as signs, see the Zodiac sub-section of this site.